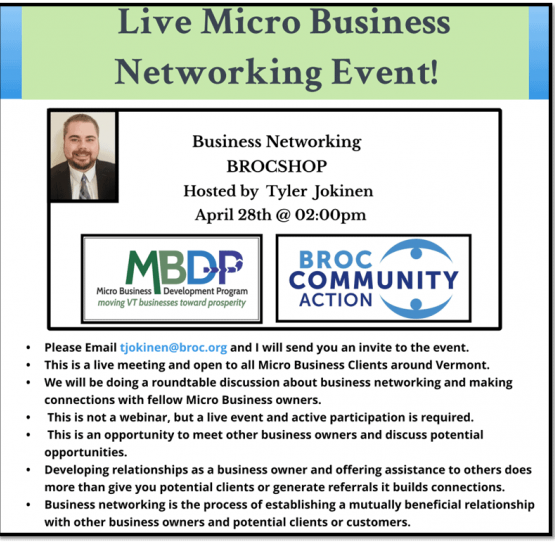 NEW BROCSHOP April 28th @ 2:00pm
LIVE FREE Micro Business Networking Event!
Come join this LIVE event for all Micro Business clients around Vermont to make connections and discuss potential business opportunities.
Are you thinking about starting or expanding a small business? We are here to help!
Step by step business plan development.
Not sure where to spend your money on your business? Not sure how profitable you might be? Let us help you figure out what a realistic roadmap looks like for your business idea.
Individualized Counseling
Each type of business has their own identity, much like the entrepreneurs behind the business. We are happy to meet and discuss what will help make you successful.
"I have worked with Tyler Jokinen for the past three weeks on my business plan. Tyler has been amazing with his knowledge of numbers and people. He understood my vision right away and made it all so easy. Tyler has helped me from A-Z with my business plan. From funding to licensing. Tyler's help was more than I ever hoped for. I feel much more confident, going forward with my business, with the knowledge and thoughts Tyler has shared with me. BROC Community Action is very luck to have him on their team, he is a real asset. Thank you MBDP, BROC and Tyler Jokinen." — T.S.

Tyler Jokinen
MBDP | Business Counselor 
Ready To Take The First Step?