BROC Community Action is able to provide FREE Weatherization services through the Vermont Department of Children & Families.
Weatherization services may include:
-Comprehensive "whole house" assessment of energy-related problems
-State-of-the-art building diagnostics, including blower door, carbon monoxide, and heating system testing & infrared scans
-"Full-service" energy-efficient retrofits, including dense-pack sidewall insulation, air sealing, attic insulation, heating systems upgrades and replacements.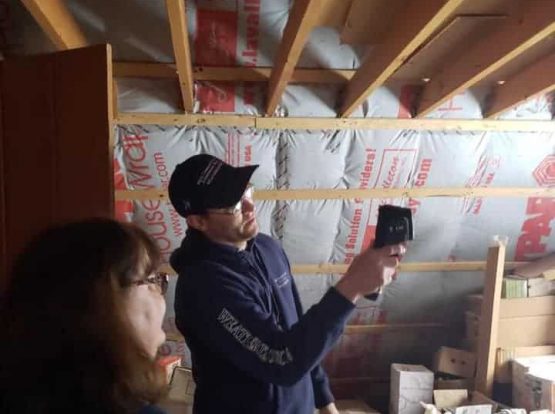 BROC Community Action & Vermont Adult Learning have partnered to offer FREE Weatherization Training
Free training offered in the Building Sciences Industry with an opportunity to earn certification in Building Science Principles from the Building Performance Institute (BPI, Inc.).
Claim your spot in this free weatherization training beginning on Monday, January 10th, and running for three weeks. 
Participants must be registered by Thursday, January 6th. 
Participants must be at least 18 years of age. 
Vermont Adult Learning will provide a $250 stipend for participants completing the program.
For more information or an application contact:
Jeff Nerney
(802) 779-0057
Weatherization assistance and energy efficiency measures are available at no cost to Vermont residents who meet income eligibility guidelines; regardless of whether you own or rent your home, apartment or mobile home. ($9,500 job cost average).
Our professionally trained staff will evaluate your home and then meet with you to design a plan that will save energy and money and make you more comfortable.
The weatherization process helps the environment by reducing carbon emissions too!
INTERESTED IN LEARNING MORE?
By clicking "Call Me" you agree to have one of our Weatherization Specialists call you on the number provided.
What are they saying about us?
Real experiences from Rutland & Bennington County clients
"I just want all of you who came to my home and made things nicer for me to know that it is very much appreciated. You need to know how much easier both energy and comfort-wise it has been for me in my "eighties" to be able to stay alone in my own home for as long as possible."
— M.M —
"I just have to express my gratefulness to you all; and specifically to Mr. Thacker, Gordon, Rick, Hiramand Damian for the wonderful work. I am extremely pleased and thankful. Your people were respectful, hard working & pleasant. The follow through from your supervisors was impressive. I will think of you all often as I enjoy the results of your efforts and labor."
— C.B. —
"A note of formal thank you to, and commendation of, your fantastic Weatherization team who have done a terrific job of weatherizing the mobile home we own and live in. Thank you! Thank you! Thank you! Your team was professional, courteous, friendly, helpful and did an outstanding job! Thank you all for such a wonderful program." 
— C.F & E.M. —