Vermont Farm To Family Program
The Vermont Farm to Family Program provides coupons to redeem for fresh vegetables or fresh fruit at over fifty Vermont farmers markets authorized to accept them, along with information about using fresh produce and shopping at farmers markets. Families enrolled in the Vermont Health Department WIC program may receive coupons as well as other individuals or families who have a household income at or below 185% of the federal poverty limit. One out of four Vermonters qualify for coupons. Coupon distribution starts in late June and continues until all coupons are distributed by area Community Action Agencies, including BROC Community Action, and the district Health Department offices. The coupons expire on the last day of October.
Are you enrolled in the Department of Health's WIC Program? Are you at or below 185% of the federal poverty rate?
What are the monthly income limits for 2022?
$2,096 a month for a single person
$2,823 for a household of 2
$3,551 for a household of 3
$4,279 for a household of 4
$5,006 for a household of 5
$5,734 for a household of 6 
*$728 for each additional household member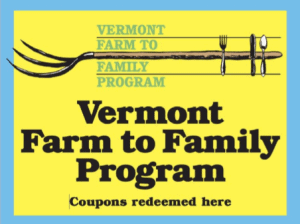 The application process begins on July 1 this year. Coupons are provided when you apply. Distribution is on a first come, first served basis until all coupons are gone- so apply early!
Coupons are valid for only one market season, expiring on October 31st each year.
For more information: 802.775.0878 or e-mail us at [email protected].
"Thank you for the help you gave me for the vegetables and fruits at the Rutland Farmer's Market. I ate well and it was a great financial help. I am extremely grateful."
"Amazing experience i love it a lot. Thanks to the team that dreams come true, great! I appreciate their attitude and approach. Truly professional!"
Look for vendors who have yellow & blue Farm to Family signs posted.
They may only be used at participating farmers markets and farm stands.
They may only be used to buy fresh fruits, fresh vegetables and fresh-cut herbs. "Fresh" means just picked- sold raw and unprepared.
Farmers may not give change for a coupon. If what you want costs a little over $6, it's better to pay the extra in cash than waste part of a coupon. Bring some cash/change with you!
Anyone who buys or sells a coupon may be disqualified from the program and subject to legal action.
Coupons expire on October 31st each year, so make sure you get to the Farmers Market or Farm Stand for your fresh, local foods before then.
Coupons are distributed on a first come first serve basis. Once a site is out of them, they are gone. So apply early!
Use them at the Farmers Market, too!
Most markets accept the Vermont EBT card. Look for the EBT/debit card table at the market. You can get tokens you can use to buy produce at the market there. The $1 tokens may buy foods eligible for the 3SquaresVT program and sold by any vendor in the market. The $5 tokens are for EBT cash accounts and may buy any product sold at the market. All EBT markets also offer bonus Crop Cash coupons to 3SquaresVT shoppers.
The tokens & coupons may only be spent at the market where you got them.
Farm to Family is supported with the funds from the U.S. Department of Agriculture (USDA). To learn how to report a discrimination complaint to the USDA, view the full nondiscrimination statement here.
Report other types of complaints to the market manager, the agency where you got the coupons, or:
DCF – Economic Services Division
ATTN: 3SquaresVT Farm to Family
280 State Drive, HC 1 South
Waterbury, VT 05671-1020